Back to Search Results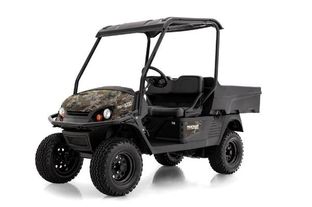 2022 Tracker Off Road OX400

New

Year
2022
Located in
Dover, NH
Sale Status
Active
VIN
A8BLVABAKN8027576
Stock Number
USA8BLVABAKN8027576
| | |
| --- | --- |
| Base Price | US $8,499 |
| Freight | $1,050 |
| Sale Price | US $9,549 |
Gallery
Dimensions
| | |
| --- | --- |
| Overall Length | 119.0 in / 302.3 cm |
| Overall Width | 52.0 in / 132.1 cm |
| Wheelbase | 78.0 in / 198.1 cm |
| | |
| --- | --- |
| Ground Clearance | 7.0 in / 17.8 cm |
| Dry Weight | 1,032 lbs / 468 kg |
Engine
| | |
| --- | --- |
| Displacement | 401 cc |
| Power | 14 hp |
| Engine Type | 4-Stroke, Gas Engine |
| Cooling | Air Cooled |
| | |
| --- | --- |
| Fuel Capacity | 6.6 gal / 25.2 L |
| Lubrication | Pressurized Oil System |
Powertrain
Drive
CVT (Continuously Variable Transmission), Shaft Drive
Gear Range
Forward-Reverse
Brakes
Rear Wheel Mechanical Self-Adjusting Drum
Chassis / Suspension
Suspension
Front Leaf Springs with Hydraulic Shock Absorbers / Rear Multiple-Leaf Springs With Hydraulic Shocks
Tires
23 x 10 - 12 (4 Ply Rated)
Towing / Hauling
| | |
| --- | --- |
| Load Capacity | 500 lb |
| Towing Capacity | 1,200 lbs / 544 kg |
Description/Condition
The TRACKERŪ OX400 is a hard-working, no-nonsense, two-person utility vehicle. It's ready to rock with a 1,200-lb. towing capacity and 500-lb. capacity/12-cu. ft. heavy-duty cargo box. Plus, it features a lifted suspension and aggressive-tread tires, you won't have to worry about rugged terrain stopping you from getting the work done. Now available in TrueTimberŪ STRATA Camo.
Key Features
? 13.5 hp, 401 cc single cylinder, air-cooled engine
? Overhead valve
? Pressurized oil system, spin-on oil filter
? Internal counter rotating balance shaft
? Closed-loop electronic fuel injection
? Electronic inductive spark ignition
? Replaceable dry cartridge air cleaner
? Electrical Starter/Generator, solid-state regulator, 12 Volt maintenance free HD battery (700 CCA, 95 minute reserve)
? Automatic, continuously variable transmission (CVT)
? Dual rear wheel mechanical self-adjusting drum brakes. Single point park brake release with self-compensating system
? Transaxle differential with helical gears, ground speed governor, forward/reverse
? Roto-molded cross-linked polyethelene cargo bed. Lifts for access to powertrain. Removable hinged tailgate
Safety Disclaimer
All specifications subject to change without notice. All units are subject to prior sale. Please check with your dealer to confirm availability of this model. For your convenience dealer contact information is provided here. Inventory shown is subject to prior sale, transfer to another location, or errors in data transmission. ATVs can be hazardous to operate. For your safety always wear an approved helmet, eye protection, and protective clothing. Never engage in stunt driving; riding and alcohol/drugs do not mix and could cause serious injury or even death. Avoid excessive speeds and be particularly careful on difficult terrain. TRACKER OFF ROAD recommends that all riders read and understand their operator's manual before operation. Do not shoot from or lean firearms or bows against the vehicle. Never carry a passenger on a single-rider ATV. Only ride an ATV that is right for your age. Unless otherwise specified, ATVs are only recommended for users 16 years and older. TRACKER OFF ROAD recommends that all riders take a training course. For safety or training information in the U.S., call the ATV Safety Institute at (800) 887-2887. In Canada, call the Canada Safety Council at (613) 739-1535 or see your dealer.
Disclaimer
We employ best efforts to present accurate pricing, specifications, features and availability for models shown on this site.  On occasion, data transmission errors may produce anomalies in information presented.  Photos could show optional accessories not included in the listed price or not available on the actual model in stock.  Should you have questions about what you see here, your dealer will be able to confirm correct availability, model content and pricing.  Inventory shown is subject to prior sale or transfer to another location.