Back to Search Results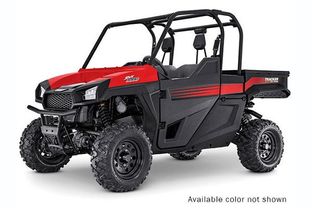 2020 Tracker Off Road SVX1000

New

Year
2020
Located in
Allenton, WI
Sale Status
Active
VIN
4UFB20BD8L9007824
Stock Number
US4UFB20BD8L9007824
| | |
| --- | --- |
| Base Price | US $15,199 |
| Freight | $600 |
| Sale Price | US $15,799 |
Gallery
Dimensions
| | |
| --- | --- |
| Overall Length | 126.0 in / 320.0 cm |
| Overall Width | 64.0 in / 162.6 cm |
| Wheelbase | 85.0 in / 215.9 cm |
| | |
| --- | --- |
| Ground Clearance | 13.0 in / 33.0 cm |
| Dry Weight | 1,755 lbs / 796 kg |
Engine
| | |
| --- | --- |
| Displacement | 957 cc |
| Power | 100 hp |
| Engine Type | Liquid-Cooled 4-Stroke, Twin Cylinder, Single Overhead Cam, Gas Engine |
| | |
| --- | --- |
| Fuel Capacity | 9.5 gal / 36.0 L |
Powertrain
Drive System
On-Demand AWD
Drive
CVT (Continuously Variable Transmission), Shaft Drive
Gear Range
H,L,N,R,P
Brakes
4-Wheel Hydraulic Disc Brakes with 9 in (22.9 cm) Rotors, Dual Piston Calipers
Chassis / Suspension
Suspension
Double A-Arm with 12.8 in (32.5 cm) Travel / Double A-Arm with 12.9 in (32.8 cm) Travel
Tires
Front 27 x 9-14 / Rear 27 x 11-14, Duro Powergrip
Towing / Hauling
| | |
| --- | --- |
| Load Capacity | 1200 |
| Towing Capacity | 2,000 lbs / 907 kg |
Description/Condition
Sometimes you need power. Sometimes you just want it. The TRACKER SVX1000 delivers. Add to its 100hp, best-in-class ground clearance and storage, 2000 lb towing capacity and you have American-built performance to fulfill your passions in the country you love.
Key Features
100HP EFI Engine
Upgraded Sport-Bolstered Bench Seats
67 ft-lb of Torque
On-Demand AWD
Standard Electronic Power Steering
Standard Full Doors
Four-Wheel Double A-Arm Suspension
Front & Rear Sway Bars
Class-Leading 24 cu-ft of Storage with Extended Cab
2,000 lb of Towing and a 600 lb Capacity Tilt Bed
Fast-N-Latch? Bed Storage System
Best-in-Class Ground Clearance
Tilt-Bed with Lift Assist
Safety Disclaimer
All specifications subject to change without notice. All units are subject to prior sale. Please check with your dealer to confirm availability of this model. For your convenience dealer contact information is provided here. Inventory shown is subject to prior sale, transfer to another location, or errors in data transmission. ATVs can be hazardous to operate. For your safety always wear an approved helmet, eye protection, and protective clothing. Never engage in stunt driving; riding and alcohol/drugs do not mix and could cause serious injury or even death. Avoid excessive speeds and be particularly careful on difficult terrain. TRACKER OFF ROAD recommends that all riders read and understand their operator's manual before operation. Do not shoot from or lean firearms or bows against the vehicle. Never carry a passenger on a single-rider ATV. Only ride an ATV that is right for your age. Unless otherwise specified, ATVs are only recommended for users 16 years and older. TRACKER OFF ROAD recommends that all riders take a training course. For safety or training information in the U.S., call the ATV Safety Institute at (800) 887-2887. In Canada, call the Canada Safety Council at (613) 739-1535 or see your dealer.
Disclaimer
We employ best efforts to present accurate pricing, specifications, features and availability for models shown on this site. On occasion, data transmission errors may produce anomalies in information presented. Photos could show optional accessories not included in the listed price or not available on the actual model in stock. Should you have questions about what you see here, your dealer will be able to confirm correct availability, model content and pricing. Inventory shown is subject to prior sale or transfer to another location.